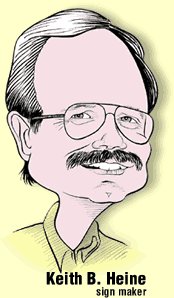 "We make lasting impressions that represent your business through quality images."

Your sign is often the first introduction you make in business. People usually see your sign before they see you or the products you sell. Therefore it is essential that it reflects your high standards.

At Heritage Signs we believe in reminding your customers of the ideals reminiscent of a simpler time, of days when business meant integrity, courtesy and commitment.
.


We listen to our customers and provide products hand crafted with painstaking care and attention, using the finest in creativity, materials and workmanship.

What We Do at Heritage Signs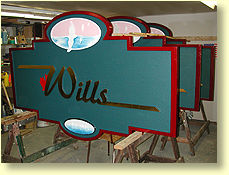 We welcome challenges.
With our background in custom signs, we realize that every customer is unique.
Your needs and wishes can be accomplished at Heritage Signs. Artistic talent combined with state-of-the-art computer technology is what sets us apart.

SIGN MAKING
Our fully equipped workshop allows us to produce a comprehensive range of signage to meet any requirement. Our craftsmen are as comfortable with quill and chisel, as they are with computers, routers and vinyl plotters.

Unique hand crafted signs

High tech design and routering

Gold leaf, smalting, sandblasting, hand carving, hand painting

Computerized vinyl plotter for vehicles, banners and a host of other
applications.

COMPLETE CORPORATE PACKAGE
If you are looking to update your corporate image or create a new one, we can design a complete corporate package from basic logo to stationery, vehicle lettering, banners, exhibits, displays, store/business signage etc.
Put us to the test!
BANNERS
Heritage Signs can supply banner materials to suite all your requirements. Choose from indoor Tyvek or indoor/outdoor roped Weatherspan. Our turn around time is guaranteed to meet your deadline.